...... but some people have more rights than other people and fewer responsibilities.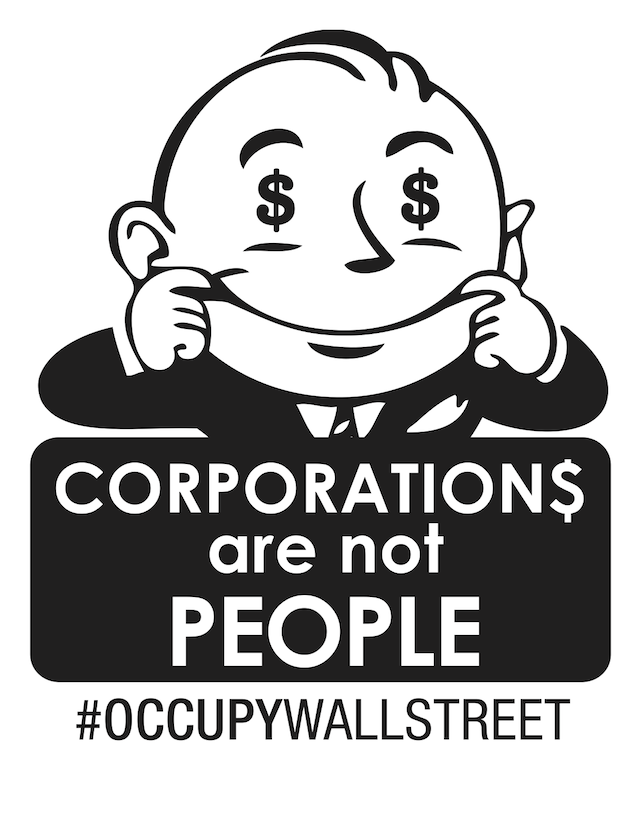 On January 21, 2010, our pro-business United States Supreme Court officially determined that corporations are people, and the court continued its expansion of corporate rights in rulings subsequent to 2010.
It is important to note that corporations have always had rights under corporate law, but are now acquiring human rights under the Constitution of the United States, granted by the U.S. Supreme Court, not the authors of the U.S. Constitution. The founders were well aware of the corporate structure, and had they wanted corporations to be people, they would have enshrined corporate personhood within our guiding document. They did not.
By way of U.S. Supreme Court edict, the rights of corporations since 2010 include human rights to speech, and most recently human rights to religious beliefs. Since there are hundreds of religions, perhaps thousands worldwide, the ruling is bound to cause complexities and disruptions, both to consumers and commerce. The dissenting opinion of Justice Ruth Bader Ginsburg in Burwell v Hobby Lobby enumerates many of those complexities and disruptions. She writes: "The Court, I fear, has ventured into a minefield ..."
Without challenge to these preposterous court decisions, it is only a matter of time before corporations acquire more rights under the U.S. Constitution, including the human right to vote, and the human right to run for public office. A consequence of the Hobby Lobby decision is that corporations may now seek exemptions based on their religious beliefs, while those same laws remain in effect for the general public.
As to their responsibilities, corporations have not, and will not endure imprisonment or execution for crimes committed. Therefore, despite the U.S. Supreme Court's decision that corporations are people, it is clear corporations do not have the same responsibilities; and that there is, indeed, a difference in the definition of people as people think of people, versus how the U.S. Supreme Court thinks of people. I wonder, too, how the rights of corporations will be different, state to state, depending on differences in language among the Constitutions of the 50 states, or whether, henceforth, the U.S. Supreme Court's decisions on all matters of corporate rights will trump the language in all State Constitutions. And if a certain billionaire has his way, there will be 56 states, as he attempts to carve California into 6 new states with 6 separate State Constitutions. Among other things, the legal doctrine that corporations are people could be expressly granted in each of those six new Constitutions, including corporate voting rights and the right to run for public office, an experiment conducted on the world stage. The State of Silicon Valley might emerge as the most powerful state in the United States.
Below, billionaire Timothy Draper, in a CBS interview, concludes the State of California provides "nothing for anyone" and plans to fix it by creating six states from one. Admittedly a long shot, never underestimate the power of money to convince people to vote against their own interests.
The Citizens United decision wiped out 100 years of regulation of corporate political expenditures used to influence our elections, including spending to support or defeat candidates, or to influence the outcome of ballot questions. The decisions following Citizens United – SpeechNow, and McCutcheon – further opened the floodgates to spending by corporate persons and natural persons. Not surprisingly, candidates for political office feel pressured to raise ever more gobs of money to compete with the new wave of spending by outside organizations. Generally speaking, raising money from natural persons is more difficult than raising money from corporate persons.
This situation has led to great cynicism. Indeed, in a recent poll, 96 percent of Americans believe Washington is awash in money; 91 percent believe nothing can be done about it.
I do not share this fatalistic view that American Democracy has run its course.
There is power in the masses to restore integrity to the political process and preserve our representative Democracy, as evidenced by the July 5 Seacoast Walk for Campaign Reform. See previous post below for video and photographs.
Also serving to inspire hope and trust is passage of a so-called "disclosure" bill to be signed into law later this month by Gov. Hassan. This law will provide needed information to voters as to who, and to what extent, outside money is influencing our elections. Some may ask: What does such a law, whether at the state or federal level, have to do with my economic or social or job security? The answer is: Everything.
Citizens … those of you with a pulse, a conscience, and a belly button, your human rights are beckoning your political engagement.
Bob Perry
NH State Representative
Strafford County District #3
Strafford and New Durham
Additional Resources
The New Hampshire Rebellion
www.nhrebellion.org
Billionaire wants to split California into six states
on
CBS This Morning
https://www.youtube.com/watch?v=b_BISXANE6o
Romney says corporations are people too, what did our founders say about that?
on
SodaHead
http://www.sodahead.com/united-states/romney-says-corporations-are-people-too-what-did-our-founders-say-about-that/question-2072909/
Image Credits:
http://occuprint.org/PrintLab/CorporationNotPeople
http://www.sodahead.com/united-states/romney-says-corporations-are-people-too-what-did-our-founders-say-about-that/question-2072909/